Reuniwatt will be at Intersolar Europe, the world's leading exhibition for the solar industry, from June 20-22 in Munich, Germany. Our team is more impatient than ever to be there, meet with you, and discuss the future of energy.
Reliable weather data are the key to leveraging profitability and reducing the risk of solar installations
The performance of solar plants is becoming a critical issue, now that the solar industry has reached its maturity and is today a billion-dollar industry. "Reliable evaluations of solar plants' performance are requested by plant developers, investors, operators. Yet, while there is a constant increase in hardware monitoring and analysis capability, weather is still often neglected", mentions Nicolas Schmutz, CEO of Reuniwatt.
The company has thus come up with dedicated solutions for a weather-wise management of solar plants. These solution have satisfied clients on five continents. Reuniwatt's range of solar forecasting services – that enable gradual sharpness levels – permits substantial improvements of the renewables' aggregation and trading on spot markets, compliance to grid code requirements and optimisation of the plant management.
Solar forecasts for hybrid systems within microgrids: save additional 36% on fuel consumption
The hybridization of diesel power supplies with renewable energy sources is a major topic of the energy sector, especially for developing countries or remote industries. Reuniwatt has been pioneering forecasting solutions for such applications, and major project developers, integrators and hybrid control system providers have already trusted its solutions. Its field-proven service has been enabling up to 36% additional fuel savings by dynamic spinning reserve control. Reuniwatt's short-term forecasting service is based on the use of the company's patented Sky InSight™™ cloud imager, that has been selected among the finalists for the "Smarter-E Award 2018".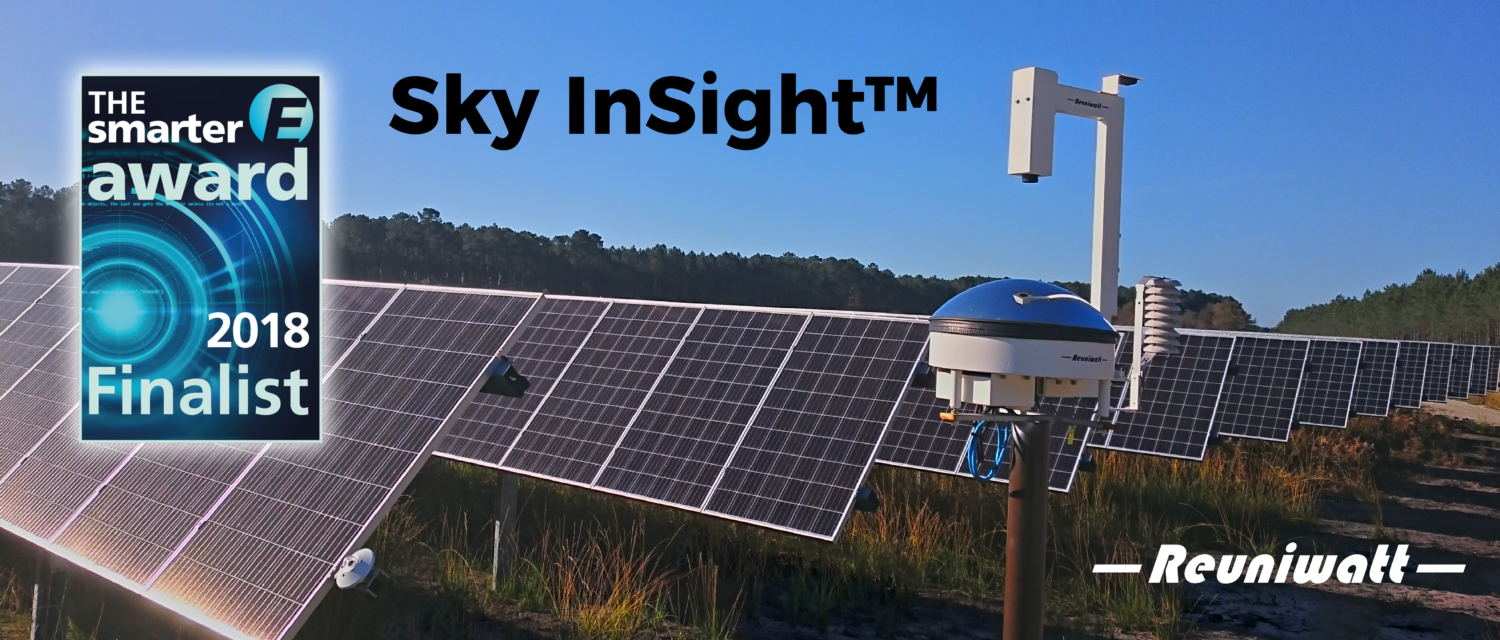 Our representative Marion Lafuma will give a presentation at Intersolar conference during the session "Off-grid Project That Make a Difference", on Tuesday, June 19 at 16:30. She will notably present the first results of our sky-imaging project in Brazil, for the rural electrification of a community in the Amazon rainforest.
Our delegation at Intersolar
This year, during Intersolar (20-22 June, Munich, Germany), you will be able to meet Reuniwatt's CEO Nicolas Schmutz, and our Key Account Manager for Germany, Thomas Mart. You can organise a meeting with Thomas and the rest of the team now. They will be happy to welcome you on Reuniwatt's booth during the exhibition:
Schedule an appointment by clicking on the button below.