Reuniwatt, a leading expert in atmospheric science and solar forecasting, has been nominated for the second time consecutively for The Smarter E Awards in the category Smart Renewable Energy. With their new SunSat™ Digital Twin, Reuniwatt is bringing PV monitoring through satellite-to-irradiance data to a new level.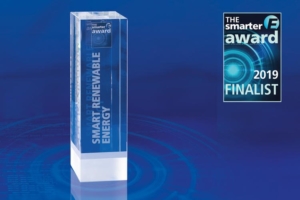 "We are proud that in 2019 again we are standing out with our services and products. We are leveraging our decade long experience in satellite services to derive target production values without the need to install any hardware or ground sensors." says Nicolas Schmutz, founder and CEO of Reuniwatt.
Reuniwatt's reliable satellite-to-irradiance based forecast is now provided to the user as a new, highly accurate and cost-efficient supervision tool for performance monitoring. SunSat™ Digital Twin is an innovative solar asset management tool offering a real time health check at a glance, and enabling the asset managers to optimise the yield of their solar parks and improve financial results.
SunSat™ Digital Twin can be applied to single projects or the complete fleet, thus being especially useful for asset managers who want to supervise their portfolio with one single KPI. It provides a comfortable user experience, simplifying monthly reporting requirements by automatically concentrating distributed information into one, and providing independent expert reporting much appreciated by CFO.
With easy access through your pc, tablet or mobile phone, Reuniwatt is again bringing its experience in R&D into day to day business and offering a smart solution for increasing plant and yield availability.
To learn more about Reuniwatt and its products, come visit us at our booth at Intersolar Europe (13.-15. May, in Munich, Germany) // Or visit our website at www.reuniwatt.com or ask for a an appointment or a demonstration.
About Reuniwatt (www.reuniwatt.com)
Reuniwatt is a major player of the solar radiation and cloud cover assessment and forecasting. Based on solid Research and Development works, the company offers reliable products and services intended for professionals of various fields, making the best out of two key facets of the meteorology: atmospheric physics and data sciences. A particular focus has been placed on solar energy forecasting, while developing cutting edge solutions to improve the short-term prediction of the solar resource.
The company has won many grants, including H2020's SME Phase 1 programme, which makes Reuniwatt a European Champion with regard to innovation.