This year, the Territoire Paris Est Marne&Bois and the team of PCAET (Plan Climat Air Énergie Territorial) together with two partner incubators, GreenTech Innovation and IGNfab, are initiating the possibility for awarded start-ups to get involved with the Territoire services and interested cities to jointly develop innovative green projects. The collaboration also supports Reuniwatt's innovative PARCS mapping.
As part of its mission to support innovation, Paris Est Marne&Bois wants to offer innovative companies the opportunity to test their technologies and innovative projects in "real-life situations." The administration wants to act as an intermediary between these players of tomorrow and their partners: GreenTech Innovation, the incubator of the Ministry of Ecological Change, located in Cresco, the association "le Solaire se lève à l'Est", which aims to involve citizens in the energy transition, and the IGNfab, which is also located in Saint-Mandé.
Paris Est Marne&Bois carries out a first project with Reuniwatt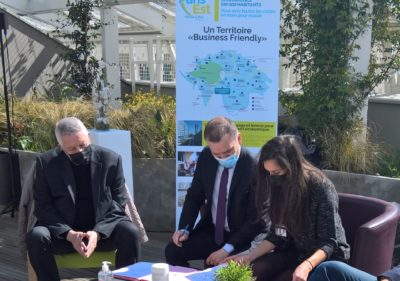 Towards these goals, the territory wishes to bring its 13 municipalities and the Paris Est Marne&Bois region closer to the award-winning companies and their innovative and sustainable themes by organizing relevant meetings and supporting the resulting collaboration.
Given the local authorities' commitments to energy transition, this approach is being developed in particular as part of the implementation of the Territorial Climate-Air-Energy Plan. Thus, Paris Est Marne&Bois is setting up a project with the start-up Reuniwatt, one of the winners of the call for proposals on "Energy and Climate" by IGNfab and project partner of the Institute since 2020. Specialized in renewable energies, atmospheric sciences, defense and space, Reuniwatt has developed an innovative mapping technique: "PARCS" (Photovoltaic Atlas Remotely Captured from the Sky), which, thanks to the use of artificial intelligence and the use of aerial imagery, allows an accurate and updated estimation of photovoltaic installations, as well as of development potential and opportunities of solar energy in the region. This makes Reuniwatt, a leader in cloud monitoring and irradiation forecasting, the first start-up to test its patent in the territory.
Photo @François Lecordix/IGNfab: Marion Lafuma (Reuniwatt) with Olivier Capitanio (President of Territoire Paris Est Marne & Bois)
Press release published on 30/03/2021 at www.parisestmarnebois.fr
---
About Reuniwatt (www.reuniwatt.com)
Reuniwatt is a major player of the solar radiation and cloud cover assessment and forecasting. Based on solid Research and Development works, the company offers reliable products and services intended for professionals of various fields, making the best out of two key facets of the meteorology: atmospheric physics and data sciences.
The company has won many grants, including H2020's SME Phase 1 programme, which makes Reuniwatt a European Champion with regards to innovation. Reuniwatt has also been selected among the national fast-growing companies to join the prestigious French Tech 120 programme in January 2020.