Reuniwatt's team is proud to have won a 1st prize of the Space Tour 2021 launched by the French Ministry of the Economy, Finance and the Recovery and held by the CNES, the National Centre for Space Studies, in France. The country aims to become the first major low-carbon economy in Europe by achieving carbon neutrality in 2050, and released its France Relance plan in in September 2020.

Space Tour 2021 supports SMEs

Reuniwatt's team is proud to have won the 1st prize at the Pitch Day for "Energy, ecological, digital transition & Smart Cities" as a part of the France Relance programme. Space Tour 2021 acknowledges that space applications, combining earth observation with artificial intelligecne, will be a pillar of the economy, given many specialised SMEs active in this field (around 55% of the plan are dedicated to French SME-ETIs) which are developing innovative concepts providing important information to cities, regions and governments.
The recovery plan particularily supports startups and SMEs developing space applications: Operated by CNES as part of the "Space" component of France Relance, Space Tour 2021 calls for projects aiming to support R&D projects for innovative and promising space applications, responding to societal challenges in cooperation with the partner regions.

PARCS IO: Award-winning innovative solar atlas
France has chosen to invest heavily in future technologies and increase support for research, training and development of skills and existing expertise. Reuniwatt's project PARCS IO will allow for updating of information on the solar capacity of a region using satellite images compared to only aerial photos or drones. The 100 K€ contract will allow us to combine the Atlas of PV installations, PARCS IO, with infra-daily estimates of solar irradiance by satellite (SunSat™ Live) to reconstruct photovoltaic production in real time and contribute to the observability of the electrical balance. To qualify the solution, we will compare our results to live data based on the regional grid structure.
In addition, a detailed atlas of the available renewable power sources allows territories to evaluate and understand the current situation and estimate solar capacity, it helps define the optimal mix of renewable energy, conventional generation, and energy storage, and to foresee and react on time to certain risks. Beyond the rapid estimation of the of the status quo, satellite imaging makes it possible to to refine knowledge of the geographical areas to the point where it is possible to estimate the impact of any event for the corresponding area and estimate potential damage after e.g. severe weather events. It can also be the base for a realistic simulation of future developments. Energy use accounts for nearly 70% of France's greenhouse gas emissions. The recovery must clearly set the stage for France to take the lead at the forefront of renewable generation technologies, by developing and industrialising French solutions for decarbonisation of industrial sites and on an overall societal level. The quality and robustness of satellite data makes PARCS IO a good candidate to develop a competitive advantage while maintaining economic and societal benefits. PARCS IO is an innocative concept answering concrete questions regarding issues expressed by the regions. It has already been tested by the Paris Est Marne & Bois region in a pilot project.
Innovation: A key for a greener, more sustainable planet

Reuniwatt believes in innovation as a catalyst for our technological advances. The French government presented France Relance in September 2020 and presented the detailed follow-up in the form of a national Recovery and Resilience Plan in April 2021. From the beginning on, France Relance aimed to support companies active in the aereospace sector. Innovation is essential for our company, but also for the future of aerospace business overall: It contributes to the revival of space industries impacted by the crisis while stimulating R&D projects and competitiveness. Innovation will allow a sustainable development of the French aereospace industry while helping consolidate the national economy. The European aspects are important: Not only will the European Union finance 40% of France's recovery plan. Instead, innovative solutions will allow us to respond to societal challenges affecting Europe broken down into regional tasks, involving local policy makers and driving regional economic development. Its choices will enable France to regain its economic sovereignty, and it is that regained capacity which lies beneath modern France and Europe.
Congrats also to the other winners, Promethee and Safetyn.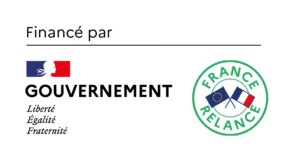 You can learn more about PARCS IO in this article.

About Reuniwatt (https://reuniwatt.com/)
Reuniwatt is a major player of the solar radiation and cloud cover assessment and forecasting. Based on solid Research and Development works, the company offers reliable products and services intended for professionals of various fields, making the best out of two key facets of the meteorology: atmospheric physics and data sciences. A particular focus has been placed on solar energy forecasting, while developing cutting edge solutions to improve the short-term prediction of the solar resource.
The company has won many grants, including H2020's SME Phase 1 programme, which makes Reuniwatt a European Champion with regard to innovation. Reuniwatt has also been selected among the national fast-growing companies to join the prestigious French Tech 120 programme in 2020, and remains a part of the selection for 2021, and the French Space Tour 2021.