For the energy intensive mining industry, the integration of renewable energy in their operations is an opportunity to realise fuel savings and environmental benefits. In their new white paper Cost Saving Potential of Solar Hybrid Systems for Microgrids – How to take full benefit of the solar resource within hybrid systems, Reuniwatt and Suntrace share their expertise on how to improve the energy management of off-grid mines and achieve maximum fuel savings through the hybridization of existing HFO gensets with a solar-battery system.
Solar hybrid systems drive down costs and curtail emissions
Hybrid energy systems combining solar and storage with diesel or HFO (heavy fuel oil) fuelled gensets are ideal to provide a stable energy supply for remote mining operations and lower energy costs of remote mining operations: Large off grid solar-battery-HFO hybrid systems can reduce the cost of electricity for the total power generation by > US$ 3 cents/kWh. The battery storage makes the system more resilient, and allows a better energy system management through functions such as PV output smoothing, frequency control, and load shifting. In addition, the battery storage system serves as a spinning reserve replacement and provides sufficient time to start gensets when necessary – in case of HFO based gensets, this can take up to 30 minutes. To handle the variability of solar irradiance levels and generated solar energy, the installation of a solar forecasting system is required.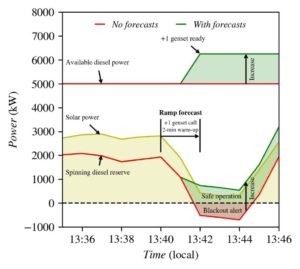 Solar Forecasts enable smart energy management of large-scale off-grid projects
Solar forecasting allows for significant cost savings through improved power reliability for large-scale off-grid projects. The implementation of an intelligent energy management system within the mine's microgrid enables real-time demand management: HourCast™ solar forecasts are used for the planning of a generator dispatch schedule for the upcoming hours, while InstaCast™ short-term forecasts can foresee cloud events that occur within a 30-minute time horizon and allow the hybrid controller to switch off supplementary gensets if the sky is clear. Based on local observations made by a robust sky imager, InstaCast™ provides high resolution solar production forecasts, that are taken into account by the hybrid controller to ensure a stable power supply and avoid blackouts. Excess solar energy is used to charge the battery, which can then be discharged during the evening hours. At very high solar penetration, the battery provides load-shifting services, and shifting high-energy intensity work to times of peak solar allows to further lower costs and increase the positive impact of a renewable hybrid system.
Adding solar power and energy storage to their pre-existing energy supply system allows mining operations to mitigate the risks associated with energy prices and at least partially decarbonize their operations. The white paper Cost Saving Potential of Solar Hybrid Systems for Microgrids – How to take full benefit of the solar resource within hybrid systems presents the four steps for the successful implementation of solar forecasts in a solar-battery system, as well as a detailed case study assessing the electricity cost reduction potential through hybridizing existing HFO gensets at an off-grid mine.
The white paper by Reuniwatt and Suntrace Cost Saving Potential of Solar Hybrid Systems for Microgrids – How to take full benefit of the solar resource within hybrid systems is now available for download. Also, more information about Reuniwatt's sky camera and short-term forecasting solution InstCast can be found here:

About Reuniwatt (https://reuniwatt.com/)
Reuniwatt is a major player of the solar radiation and cloud cover assessment and forecasting. Based on solid Research and Development works, the company offers reliable products and services intended for professionals of various fields, making the best out of two key facets of the meteorology: atmospheric physics and data sciences. A particular focus has been placed on solar energy forecasting, while developing cutting edge solutions to improve the short-term prediction of the solar resource.
The company has won many grants, including H2020's SME Phase 1 programme, which makes Reuniwatt a European Champion with regard to innovation. Reuniwatt has also been selected among the national fast-growing companies to join the prestigious French Tech 120 programme in January 2020.

About Suntrace GmbH (https://www.suntrace.de/en/)
Suntrace GmbH, established in 2009, is an independent expert for solar energy and storage projects, developing innovative energy solutions for its clients covering all major technologies from photovoltaics to solar thermal power and energy storage, finding the most economical solution. Suntrace is actively supporting the energy transition in established and emerging economies. Suntrace customers are from industry, finance and institutions and the track record covers more than 100 projects in over 40 countries, totaling about 7 GW of capacity. Since 2019, Suntrace has become an independently operating member of the Dornier Group; Dornier Group offers comprehensive infrastructure engineering services for the energy, water, mobility and aviation sectors.